Asheville School


Class Of 1965
In Memory
Jackson Heffner (History)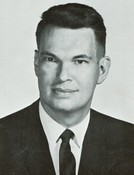 Jackson Heffner(1924 - 2011)
Jackson "Jack" Edward Heffner, 86, passed away peacefully January 3, 2011, surrounded by his wife, children, and
grandchildren, at his son's residence in Cookeville, Tenn. Born in San Francisco December 1, 1924 to Hazel Meddaugh Heffner
and Roy J. Heffner, he grew up in Morristown, New Jersey. An alumnus of Morristown High School, he graduated from Phillips
Exeter Academy in 1942. Attending Princeton University, he enlisted in the U.S. Army after his freshman year, graduating after
the war with the class of 1946. He went on to earn his Master's at Stanford University, going on to serve as vice consul with the
State Department of Kuwait and Iraq. While in the Middle East he contracted polio and was told he would either die or never
walk again. However, following a self-imposed non-traditional treatment, he recovered completely. Upon his recovery, he worked
for Bethlehem Steel. Continuing studies at Stanford University, he pursued a career in education. He taught history at The
Asheville School. There he met and married Miss Maria Brown in 1960. From Asheville, the family went on to The Masters
School in Dobbs Ferry, New York, Mr. Heffner moving into school administration. He worked as headmaster at North State
Academy in Hickory, N.C., and at The Samuel Ready School in Baltimore, Maryland, then at The Webb School in Bell Buckle,
Tenn. from where he retired in 1989. He had a wonderful sense of humor, was a great animal lover, and enjoyed reading,
traveling, and spending time with his family. A life-long Episcopalian, he served in multiple capacities within the church, especially
at The Church of the Redeemer in Shelbyville, Tenn. since 1977. He is survived by his wife of over fifty years, Maria Heffner; four
children, Jackson Edward "Jerry" Heffner, Junior and wife, Belinda, Loula Parks, Louisa Self and husband, Mike and Jordan
Heffner; four grandchildren, Mariah Heffner, Gilles Parks, Jackson Edward Heffner III, and Matt Parks; as well as dogs, Anna and
Barnabas.
A Celebration of Life Service will be held at 10 am., Saturday, January 8, 2011, at the Episcopal Church of the Redeemer, with
Father Peter Whalen officiating.
Memorial donations may be made to C.R.O.S.S. Shelter, Good Samaritan, The Episcopal Church of the Redeemer.
Visitation at their home 3 to 6 p.m. Friday.
Doak-Howell Funeral Home is serving the family. 739 N. Main St., Shelbyville, Tenn. 37160. (931) 684-5011
Published in the Asheville Citizen-Times on January 6, 2011